National Day of Reason Celebration – Omaha, Nebraska
Date/Time
05/01/2014
All Day
Location
Dodge Street Pedestrian Overpass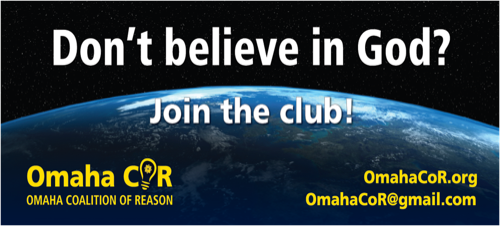 The Omaha Coalition of Reason will be celebrating the National Day of Reason!
During the morning and evening rush hour traffic we will be holding specially made National Day of Reason banners on the Dodge Street pedestrian overpass near the University of Nebraska at Omaha.
Following the evening rush hour we will meet at Dudley's Pizza and Tavern for dinner, drinks, socializing and a reading of the City and State "Day of Reason" proclamations.  There will also be an opportunity for attendees to get pictures of themselves with the proclamations for posting to their social media pages.
Complete details will be posted in an Omaha CoR event created on our Facebook page here: https://www.facebook.com/OmahaCoR
Come on out and join the fun!